︎︎︎CAN'T TAKE MY EYES OFF YOU
#autorregulación #repetición #transformación #escucha #telepatía #visiónperiférica


2008-09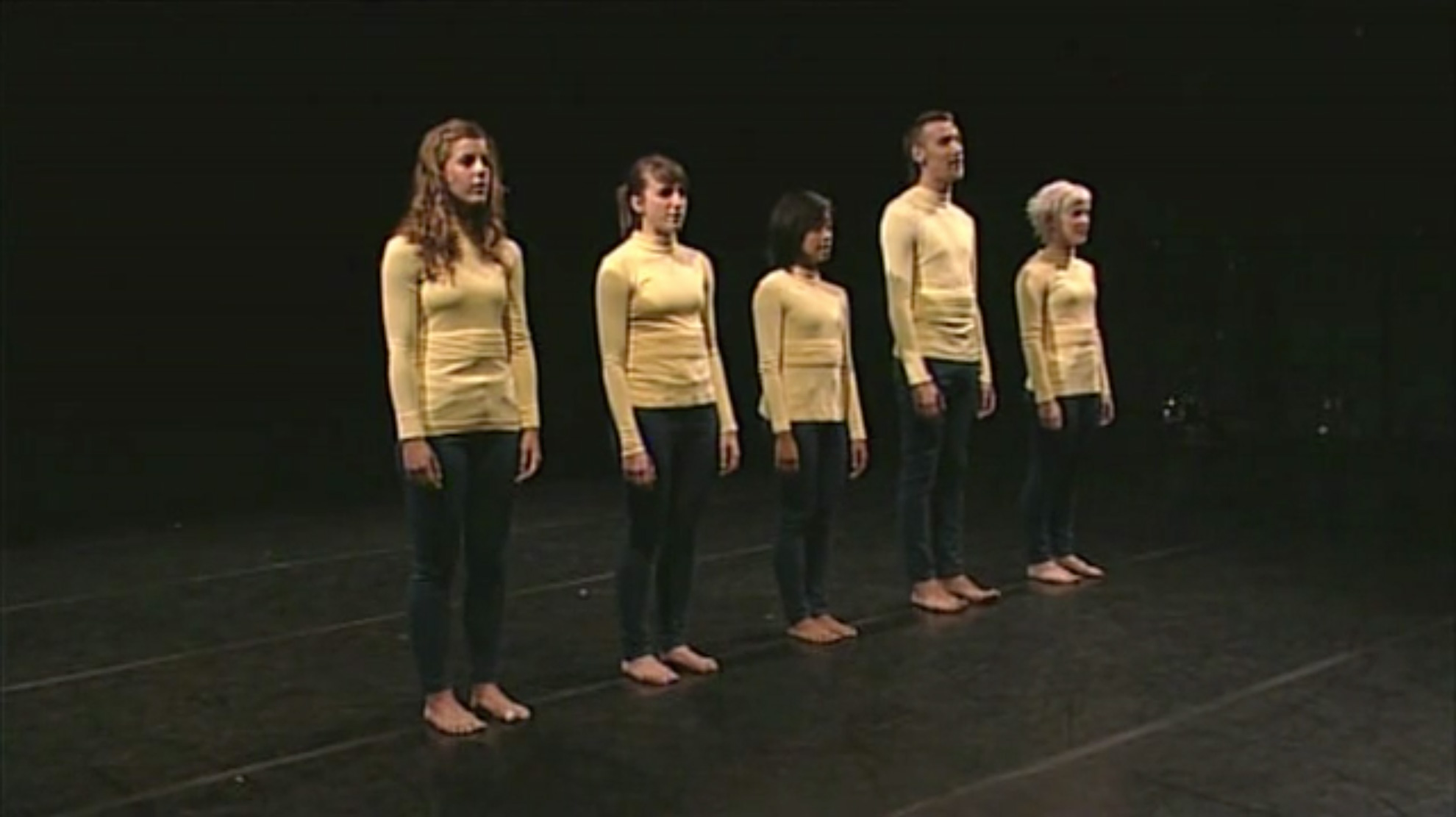 Créditos
Credits

Dirección artística
Artistic direction
Javiera Peón-Veiga

Creación e interpretación
Creation and performance
Ingrid Abeleda, Kirsty Arnold, Katherine Baldwin, Like Birch, Adelle Collyer

Financiamiento
Funded by
Comisión Jacob Dorff Petersen 2008 para la creación en la compañía Edge (Postgrado en Performance), Robin Howard Theatre, The Place, Londres, Inglaterra.



Presentaciones
Performances

Robin Howard Theatre, The Place /2009 (Londres, Inglaterra).



CAN'T TAKE MY EYES OFF YOU está basada en la traducción de partituras fotográficas generadas a lo largo del proceso de creación con material de lxs performers. La pieza explora la autorregulación grupal a través de procedimientos de yuxtaposición, collage y copy paste, superponiendo variados materiales con el fin de abrir diversas posibilidades de sentidos y relación. Esta coreografía cuenta con 16 modos de ser: antes de cada presentación, se elige al azar una de las 16 partituras que componen la obra.
<<La pieza es como 1 monstruo con 5 cabezas>>
*
CAN'T TAKE MY EYES OFF YOU is based on the translation of photographic scores generated throughout the creation process with material from the performers. The piece explores group self-regulation through juxtaposition, collage and copy paste procedures, overlapping various materials in order to open up different possibilities of meanings and relationships. This choreography has 16 ways of being: before each performance, one of the 16 scores that make up the work is chosen at random.

<<The piece is like 1 monster with 5 heads>>